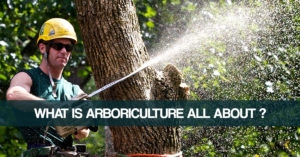 In short and precise terms, Arboriculture is all about the study of growing and maintaining trees, shrubs and other kinds of plants. It is a science as well as an art form which needs practice. Arboriculture knowledge is very useful from a career point of view and also for personal use.
The Arboriculture training basically teaches how to manage the trees and how do they respond with the change in the environmental factors so that this knowledge and other techniques can be used to nurture them nicely. After doing the Arboriculture training, a Certified arborist in India can:
Make decisions about which plant is suitable for what location.
Maintain the existing trees and plants so that they can grow and nurture. 
Use appropriate fertilizers to keep plants and trees in good condition.
Make use of the right kind of sprays for pest control.
Do bracing and cabling. 
Dispose of the tree ailments successfully. 
Do pruning 
Completely and safely remove and sometimes relocate the trees by following tree safety procedures.
Anyone who goes through a formal training through Arboriculture consultancy in India can be called as a certified Arborist in India. They possess not just the technical know-how of how to manage the trees, but also the physical strength to do the tasks themselves. Arborists are sometimes confused with the Landscapers. These two professions are a bit different. Landscapers can sometimes work as an Arborist, but generally, the Arborists have got more knowledge about the trees and the plants.
It will be helpful to add a pinch of the history of Arboriculture. This science is not a new field, it has been in existence since ancient times. As per the books of knowledge, Egyptians were able to transplant the trees by creating a ball of soil around them. The ball figure like structure is formed by soil around a newly planted tree so that it can retain water. In today's time, we still follow practices like these. Texts have been found as old as 300 BC where the Greek Philosopher has written the techniques for treatment of the tree wounds and the Planning and development of trees.
Arboriculture is about taking care of the trees- either by yourself or with the help of Treecotech Arboriculture specialist. If the trees are taken care of, they grow healthy and look beautiful. They increase the value of the property they are grown in. If the landscape of the property is properly done and the trees, shrubs and plants are well maintained, it can add up to 20% value to the price. If they are not properly maintained, then it will have a negative effect and the cost of the maintenance will go high along with reduction in the aesthetic beauty of the place.  This is the reason why maintenance and arboriculture activities should be given in the hands of Treecotech Arboriculture specialists who are experienced and responsible to maintain the health of the trees to enhance the quality of the property.