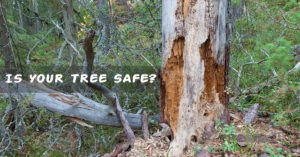 Trees and plants often catch diseases or gets infected. Identifying that the tree is sick is just the first step in tree healthcare. The next step is to take a remedial action. For that, you must first know whether it is worth spending time, effort and resources in saving the tree or not. Depending upon the ongoing season, the health of the tree can vary. Changing seasons always leave some effects on the trees.
The answer to whether the tree can be saved or not is not always straightforward. The judgement varies on a lot of factors. Most importantly, you should also be aware of the decline process of the tree. If the decline or decay has just started, then chances of saving the tree are pretty high. But if the tree has been sick from an year or longer than that, then saving it can be a very tough task. Even those trees which have a dead top are very difficult to save. This statement cannot be generalised for all sorts of trees. The reason for decline or decay plays a very important role here.
As said for all the other diseases for every creature on this earth, prevention is better than cure. It is important to keep the trees healthy and maintain their good health all through year, specially during changing seasons. If any signs are showing up, then it is important to follow up regularly and conducting repeat checks. Sometimes, correct usage of tree pruning techniques can also save from spreading disease.
It should be accepted that the tree is always disturbed by regular fungi and some varieties of insects during the summer season. This kind of disturbance to the health of the tree is nothing to worry about because the trees have their own healing mechanisms and immunity against these regular insects and fungi which comes up during summers. 
An example of such a problem is apple scab. This disease or infection is caught by apple trees or other fruit bearing trees. Such an issue is commonly caused in the spring season and it does not harm the overall health of the tree badly, so this can be ignored in some cases if the intensity is too high. But if this issue is coming up every year, then this should also be treated.
The colour of the leaves is also an indication of the health. Green leaves are a sign of good health but if they are having off-coloured leaves, then it is a matter of concern. In case of pine trees, if the needles are not looking like other needles, it could be a problem as well. Note that yellow leaves can be fixed.
Another concerning problem are the small dead branches or limbs. If the reason for dead limbs is insects, then it can be fixed. If the reason is something else, then it might not be fixable.
Arboriculture training includes identification and handling of such issues. You can also hire the services of a certified arborist in India if you need help in looking after your trees and maintaining their good quality of health.