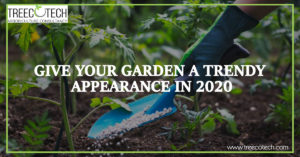 All over the world, more and more people are shifting their interest in gardening, either for growing organic food or for nourishing their love for gardening. In either case, certainly, you must be spending a lot of time in creating something new in your garden. This way you are not only giving back to nature but also enhancing the looks of your garden. However, during our busy routines, it gets difficult to take out time to maintain our gardens. So, either you can hire arboriculture services in Mumbai to maintain your garden or you can have a low maintenance garden so that you can maintain it on your own. To give your garden a unique appearance in 2020 without spending too much money, time, water and other resources, you can follow the given tips:
Plants requiring minimal water: You can decorate your garden with the plants that barely need water. This way you can enjoy the benefits of greenery without spending much effort on the up keeping of the plants. Easy to grow plants like several herbs, lavender seeds, etc. can be planted in your garden for having low maintenance. A tree planning and development agency can guide you in choosing such plants.
Go for Colors: Multi-color plantation gives your garden an attractive appearance. Even if numerous people around you follow the same trend of having a colorful garden, you can change the look of your garden from that of your neighbors. For the purpose, you just have to grow plants with leaves of different colors or plants which bear distinguished colored flowers/fruits/vegetables in your garden. Bright colors like red, orange, blue, yellows are in as they catch the eyes of every passerby. You can easily find plants of such colors on your own or can seek the help of a certified arborist service in Mumbai.
Raw look: You can creatively give a raw look to your garden by adding rocks, twigs, and sticks. Such decoration will not pinch your pocket either. 
Indoor growing: It is especially popular in urban cities, where due to lack of space people have to manage indoors only to pursue their gardening hobby. Climate concerns of the urban cities are another force that drives people to limit their plants indoors only. Since you have to infuse your small garden in your home (maybe limited to your window sill), the choice of plants should be done accordingly. You can also purchase some of the available systems that ensure enough light and water for your indoor plants within the limited space. Your hired certified arborist in Mumbai can help you select one such system so that you can make best use of available space and grow more plants in the limited space.